For your dog
Eminent Mini LAMB
Food for dogs prone to digestive problems 
The food is suitable for toy & miniature dog breeds prone to digestive problems. The high content of lamb meat and lamb protein provides your dog with nutrients and, at the same time, minimises the burden placed on the digestive tract. Sweet potatoes in the food are an excellent source of fiber, vitamins and minerals, and ensure more effective digestion. The food has a reduced fat content which makes it the right choice for overweight and older dogs.
Animal protein content 75 %
Metabolizable energy (ME) 15.55 MJ/kg
Ingredients: dehydrated lamb meat (25 %), sweet potatoes, hydrolyzed lamb protein (14 %), potato starch, yellow pea, poultry fat, potato protein, joint nutrition (hydrolyzed collagen, glucosamine, chondroitin sulphate, MSM), prebiotics (fructooligosaccharides, mannanoligosaccharides), kelp, chia seeds, milk thistle, beta-glucans, green tea extract, curcuma, additives (vitamins, trace elements, amino acids).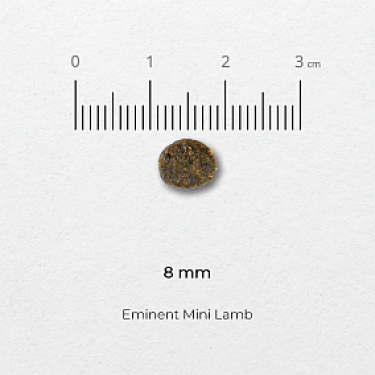 GRAIN FREE

Completely free of cereals - highly digestible and does not burden the digestive tract

 

ANTIOXIDANTS

Curcuma and green tea – rich in natural antioxidants, slow down the aging process

CHONDROPROTECTIVES

Glucosamine, chondroitin sulfate, hydrolyzed collagen and MSM - help to regenerate the cartilage and health of the musculoskeletal system.

TEETH

Ideal size of kibbles and kelp seaweed - reduces the formation of dental plaque, tartar
and bad breath
Packaging: 2 kg
Only the best ingredients
Recommended feeding doses
 

2 kg
3 kg
4 kg
5 kg
6 kg
7 kg
8 kg
9 kg
10 kg

Weight
maintenance

50 g

65 g

85 g

95 g

115 g

130 g

140 g

150 g

165 g  

Weight
reduction

45 g

60 g

80 g

90 g

105 g

120 g

125 g

130 g

140 g
Miniature dog breeds have a fast metabolism and small stomach with a short digestive tract. Daily doses should be divided into 3 - 5 portions administered during the day.