Diet for your dog
Diet Dog Hepatic
Complete dietetic food for dogs with liver insufficiency

 How the diet works:
- Decreased protein content, increased fiber and arginine contents help to prevent the development of hepatic encephalopathy
- Low copper content and higher zinc content reduce copper accumulation in the liver and thus prevent its damage
- L-carnitine promotes fat metabolism
- Increased content of potassium, fiber and arginine reduces the risk of developing related diseases.
- Reduced sodium content helps to prevent ascites and controls portal hypertension
- Silymarin contained in milk thistle seeds significantly helps to protect and regenerate liver cells
The liver is the most important metabolic organ of the body with numerous functions. It is involved in processes like nutrient metabolism, removal
of toxic substances from the body and serves as a storehouse of vitamins and minerals. The liver itself has a strong ability to regenerate but proper nutrition plays an irreplaceable role when the function of the liver is weakened.
The special formula of our food EMINENT VETERINARY DIET DOG HEPATIC supports liver regeneration and helps prevent its further damage. One of the functional components of the food is milk thistle seed which contains a silymarin complex. Silymarin shows strong antioxidant effects and helps to effectively eliminate free radicals. It also helps to stabilize and regulate the permeability of cell membranes that protect liver cells from the penetration of toxic substances.
Results have shown that after 4 months of being fed this diet combined with proper medication there is a signifi cant improvement in the health status of all dogs. The levels of monitored markers – ALT, AST, ALP and GMT – in the blood are decreased. Blood cholesterol is in the physiological range.
Indications: hepatic insufficiency, copper metabolism disorders, portosystemic shunt, hepatic encephalopathy.
Contraindications: do not use for puppies and pregnant or nursing dogs. Do not use in dogs with cholestasis.
Ingredients: rice, maize, chicken fat, dehydrated chicken meat, hydrolyzed animal protein, flaxseed,vegetable fiber, milk thistle seed 1 %, dried whey, MOS (mannanoligosaccharides), fish oil, coconut oil, mixture of herbs and algae (Urtica dioica, Echinacea purpurea, Ascophyllum nodosum), L-carnitine, glucosamine, chondroitin sulphate, additives (vitamins, trace elements, amino acids).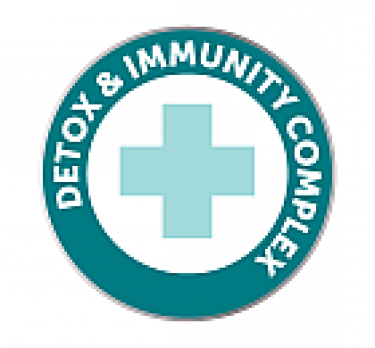 DETOX & IMMUNITY COMPLEX  with functional herbal components
Echinacea Purpurea - contains interferon, echinacoside and echinacein, that help eliminate pathogenic microorganisms; significantly helps to strengthen immunity.
Urtica dioica - has a positive effect on the liver, stomach and urinarytract; promotesdigestion and helpsdetoxifythe body.
Ascophyllum nodosum - contains natural antioxidants and helps protect the body from the negative effects of free radicals.
Low copper content

prevention of copper accumulation in the liver

Milk thistle

contains the active substance silymarin, which signifi cantly helps to protect and regenerate liver cells

L-carnitine

prevention of fat accumulation in the liver

Increased content of K, fiber and arginine

reduces the risk of developing related diseases
Packaging: 2.5 kg, 11 kg
Only the best ingredients
Recommended feeding doses
| | 1 kg | 5 kg | 10 kg | 20 kg | 30 kg | 44 kg | 60 kg | 80 kg |
| --- | --- | --- | --- | --- | --- | --- | --- | --- |
| | 35 g | 120 g | 190 g | 300 g | 390 g | 500 g | 680 g | 830 g |
It is optimal to divide the daily dose into 3 - 5 portions during the day.